Shopping Cart
Your Cart is Empty
Thank you for your business!
You should be receiving an order confirmation from Paypal shortly.
Exit Shopping Cart
Skye High Cornerstone
Check out the Semen Available page for more Cornerstone details.
MAHA 2015 Grand Champion Bull
NWSS 2016 Res. Champion Jr. Yearling Bull
Above Photos from NWSS Denver 2016- age 22 months
(Above Cornerstone pictured at 18 months and after a summer of breeding cows as a yearling!)
Skye High Cornerstone
Reg.#54167
D.O.B. 03/15/2014
2011 Nat'l Grand Champion Bull. Used live cover 2010.
Wayward's 2011 calf crop has been among the very best set of calves we have ever had. So far we can tell you he is stamping a perfectly set, bullet hind leg into his progeny. Along with loads of volume, dimension and breed character to spare! All calves to date have been born small to moderate in size(54-65 lbs.) and lively with vigorous gains. We were further impressed upon halter "breaking" his first group of heifer calves as they were by far the most well behaved weanlings we have had the pleasure of working with. Talk about a cherry on top!!
~Limited quantities of semen available~ Check our Sales page for details.
Skye High Wayward Son
Reg.#48809
D.O.B. 05/02/2009
Ben Englair of Scone Palace

Ella Ruadh the 6th of Scone Palace

Semen Available
Used Live cover 2014-2015 breeding seasons
N.W.S.S. Denver Reserve Grand Champion Bull 2011
Click here to view Norman progeny
Congratulations to the Glen Trush family, Woodwatch Farm, Georgetown NY on the purchase of this fine proven herdsire!
RTH VanNorman
Reg.#48200
D.O.B. 12/31/2008
Starshire's Forever Amber*

Highland Spice Cinnamon Toddy

LEA Haaken
Reg.#50681
D.O.B. 4/10/2011
Congratulations to LEA White Farms on their purchase of Axis!
Skye High X-Axis
Reg.#50046
D.O.B. 4/09/2010
SPH Uberdude
Reg.#45567
D.O.B. 07/05/2007
Used live cover 2007-2008
CH Aloysius
Reg# 39178
D.O.B. 02/25/2003
Orflaith the 2nd of Dirtane

2002 Nat'l Reserve Grand Champion Bull. Sire of multiple champions including both the 2005 Nat'l Grand and Reserve Grand Champion Bulls. Used live cover 2005-2006 ~semen available~ Check our Sales page for details.
Knight Of five Star Farm
Reg.# 35992
D.O.B. 11/06/2000
Homeboy of Five Star Farm
Off to a great start! Skye High's first herd sire Cedrus of Swains. Used live cover 2002 -2004. ~Limited quantity of semen available~ Check our Sales page for details.
Cedrus of Swains
Reg.# 28240
D.O.B. 03/29/1993
Sued Buidhe 2nd of Benmore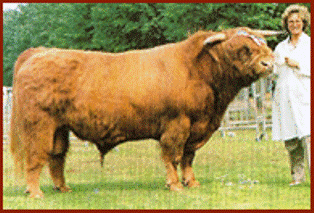 Orflaith the 2nd of Dirtane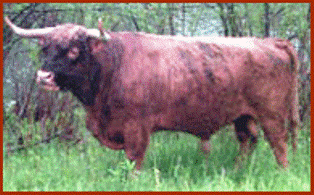 Contact Us for more details on Highland Sires and Reference Animals.
/